This morning, I was feeling really down thinking about my upcoming works for the day!?Before diving into the works, I was thinking to spend some time with a casual game which may refresh my mind. While looking for a good game, one of my colleagues shown me an interesting new one-touch game which I really enjoy.? Literally, I was craving for this type of arcade game that I can play very casually, nothing to think too much and full of entertainment!?
I am talking about Yo! Let's UP, a cute little arcade game developed by the game studio Sets and Settings.☺ Though the game looks like a random tower building game, it is quite different. It's really wondering how a simple concept turns into a surprisingly addictive game!
Yo! Let's UP is a pixelated 2D platformer with a super simple one tap control. A square shaped avatar with a smiley face ? is the main character that you have to control. At the beginning, you will sit in the bottom middle of the screen. Some colourful, different shaped blocks will come one by one from both sides of the screen and leave the screen from the opposite site. As it is a tower building game, you have to catch those blocks to make a tower.? But not with your hand! Tap the screen to jump your character while the block will be near because you have to press the block with your foot when it is passing you and land on the top of it. So, the jump should be accurate. Otherwise, you will miss pressing the block.?
An another object of this game is some yellow coloured coins which are in square shape. You find this coins after gathering 4-8 blocks towards your journey. These coins have some extraordinary power! When your reach to a coin, it will arrange all your collected block in the centre. Though it doesn't make the tower too much stable, not also let it very feeble. Using these coins, you can buy Hats for your cute character also. Many many hats with various styles are available in the shop. Wearing those funny and colourful hats are also a fun part of the game. But, if you are thinking that wearing a big hat will help you to reach the coins faster, then you are wrong! It's not gonna work at all.? Hats only work for a style.
You can play this lovely game with different modes. There are 9 game modes available. But you have to unlock them to play. You can unlock them by completing given task or skipping tasks by coins!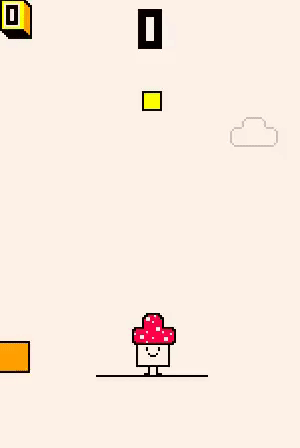 Now, let's talk about the death. Trust me, this is the most interesting part. When your unstable blocks detached from your tower, you may think the game is over, surprisingly you will see your little avatar sitting on the top of the upper stable block with its lovely smile!? It means your game does not end and you can continue again! Isn't it so exciting? But surely you will die if all blocks fall down or the blocks hit you.? So, play the game little carefully, avoiding any clash!
Yo! Let's UP is really awesome to play and great mind fresher! If you need some minutes break from your hectic life, then must try this. Surely it will entertain you. Download link is just given below for your quick start. Happy gaming.?